12/14 2017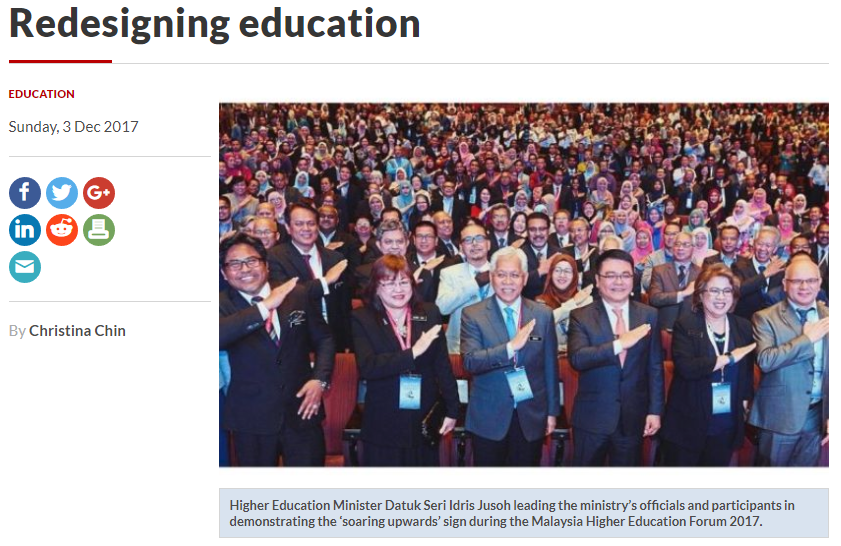 TheStar, 3 December 2017 - THE country's higher education system is flexible and bold. And, it'll keep evolving to become a learning centre for the world, said Higher Education Minister Datuk Seri Idris Jusoh.
Critical thinking will drive us forward, he said, while stressing on the need to redesign education for Industry 4.0.

We cannot be too academic nor can we train graduates the way we used to do. We must look at the kind of experiences university students need. This includes exposure to the world outside. The ability to communicate in different languages, and be trained in multi-disciplinary fields, are key factors, he said.
"Industry and academia are one. That's why we invite CEOs to help shape our curricular. Tell us what you need. We're open.
He was speaking during the Malaysia Higher Education Forum (MyHEF) 2017 held from Nov 23 to 24, at the Kuala Lumpur Convention Centre. Organised by the ministry, the forum with the theme redesigning education for Industry 4.0, saw prominent academics and big names from the industry in attendance.
"We got many views from those outside the ministry. They're happy with our efforts. Strong support from industry players like Alibaba, Tencent, and Huawei, shows that we're soaring upwards."
The ministry's Industry 4.0 framework will be ready soon. Ideas and suggestions collected during the forum will be taken into account, he said.

Building talents
During the forum, a memorandum of understanding (MoU) was signed between Alibaba Business School and Universiti Utara Malaysia. The MoU was for the nurturing and training of IT, e-commerce, and big data, in public universities nationwide.
Alibaba Group vice-resident Brian Wong said the country's consistent GDP growth rate of 6.5% over the last 50 years is largely due to the education system, but one of the most stressful things for fresh graduates today, is to find a good job.
The Alibaba Business School is keen to train Malaysians, he said, but in the new economy, it's no longer about finding the right job - it's about creating it. In China, 30 million jobs are created through the Alibaba platform, giving many opportunities for the youth, he offered. The Alibaba Business School, he shared, was launched globally to share Alibaba's experiences.
"Our team's here and we're ready to go. China has evolved very quickly in the last 20 years, so we're sharing the lessons we've learnt there with governments, entrepreneurs, merchants, and students, from around the world.
"We want to share through case studies, how governments can work with the private sector, support entrepreneurs, train manufacturers, and equip students with skills that are useful in this economy," he said, adding that Industry 4.0 needs individuals who are Internet-savvy and e-commerce enabled, can write code, and design apps.
The idea behind the Digital Free Trade Zone set up by Alibaba and the Malaysian Digital Economy Corporation, he said, is to make it easier for small businesses to engage in cross border trade. This initiative is expected to handle US$65bil (RM267.5bil) in trade, and create 60,000 jobs by 2025.
"Education is critical because it's your graduates who will push this initiative forward. What we're building today is not easy, but we have to persevere to include everyone in the economy."

Digital Civilisation
Industry 4.0 transcends technology. It will change civilisation as we know it, said Tencent Holdings senior executive vice-president Lau Seng Yee.
"It's not just Malaysia that's facing this challenge. Every nation is in the same boat. Social roles and all that we do will be impacted. So, we must ask all the tough questions. Are we moving fast enough?"
The Universiti Kebangsaan Malaysia graduate, who's also China's biggest social network and gaming firm company's group marketing and global branding chairman, said the private sector, academic institutions, parents, and policy makers, have crucial roles to play in the education ecosystem.
He said policy makers must guard our tech generation by championing an open system, being bold in making unpopular decisions, and putting education above politics. Academic institutions, he said, must serve as incubators of tomorrow's technopreneurs, but the private sector become enablers by investing in research and development.
"The private sector should give money to universities. When industry works with universities, future talents who are ready for the 'real world', get created. We need individuals who are proactive team players, with integrity, curiosity and a progressive mindset."
Citing his late father as an example, Lau reminds parents that they too have to play their part to inspire the tech generation.
"My father held three jobs including driving a taxi because he believed that only by giving us a good education, can the family's destiny be re-written."
Synergistic cooperation
The terrifying thing, said Khazanah Research Institute managing director Datuk Charon Mokhzani, is whether we can provide jobs for the rising number of degree holders.
"We want an educated society but does that mean they all have to graduate from a brick and mortar university? What about on-demand learning through MOOCs?"
There's a need to rethink our education model and how to educate for the future. Lauding the German system, he said the nation is renowned for its industrial training where skilled workers are just as respected as professionals.
A plumber can sit with a lawyer or engineer and there's mutual respect around the table because knowledge is not synonymous with having a degree, he added.
Hailing cloud-based learning as an affordable, and content-rich platform with much potential for learning, Huawei Technologies (Malaysia) CEO Abraham Liu Kang said the open system allows fast access and adoption of the best courses from anywhere in the world for anyone with a laptop or smartphone. So, no matter what your role, learning is easy, he noted. Adaptability is the most important skill to have, Alibaba's Wong opined.
Malaysians, because of the country's diversity, are very adaptable and multi-lingual. This, and the strategic location in Asia, he said, gives the country an edge in becoming a thriving e-hub for the region. "Much of what we've learnt previously is from what's been written. But now you can't predict what's ahead. What you need to learn hasn't been written yet so we must rely on core values in the face of technological uncertainty," he said, adding that technology has democratised global trade, financial services, and education.
Learning is no longer a one-way street. You can't just learn from lectures and books.
"Innovation happens at the intersection of multi-disciplines. Our students are sent to work in packing so they understand logistics. One of them is generating US$72mil (RM296.3mil) from our incubation curricular and he hasn't even graduated."

Charting the future
Moderated by press secretary to the Higher Education Minister, Danial Abdul Rahman, the town hall with Saora Industries CEO Ganesh Muren, national Youth Excellence Award recipient Haryaty Hamdzah, Universiti Malaya student representative council president Hazwan Syafiq Haznain, Centre for Research, Advisory and Technology (CREATE) founder Ng Yeen Seen, and debate and public speaking trainer Syed Saddiq Syed Abdul Rahman, saw the panellists taking on the challenges of Industry 4.0 from a youth's perspective.
Students, said Hazwan Syafiq, need opportunities to explore who they are, and what they're capable of. "Varsities have the components to help prepare us for Industry 4.0 but are we taking advantage of it? We seem to lack the desire to explore," he said, noting that consistency is key to doing well in every challenge.
No matter what you do, having the right intention from the start, is crucial, Ganesh said.
"Every skill you learn packages you as someone who is industry-ready. So, core skills like being a team player, and being analytical, are important, because the challenge doesn't end at Industry 4.0. The future will see many more industrial revolutions."
A decade from now, Haryaty offered, 65% of current jobs will disappear but there will always be a need for the "human touch". Unity, and patience, she said will ensure that we rise above the challenges ahead.
The Internet, said Ng, will create many new opportunities but we must be self-critical, and embrace life-long experiential learning.
"Varsities are here to serve the economy. Teach students the skill to learn, unlearn, and relearn."
While the difference between us and robots are narrowing, critical thinking and strong communication skills are our advantage, Syed Saddiq opined. "These are skills that were in demand 10 years ago. They are what bosses want today. And, these skills will still be important moving forward."
Advising students to be obsessive in pursuing their goals, he said extra-curricular activities are an integral part of becoming a well-rounded individual with strong skillsets.
To face global competition, Malaysia must produce holistic, entrepreneurial, innovative and balanced graduates. The recent Higher Education Forum 2017, looks at how we can create a sustainable, dynamic, and innovative, higher education ecosystem.