12/14 2017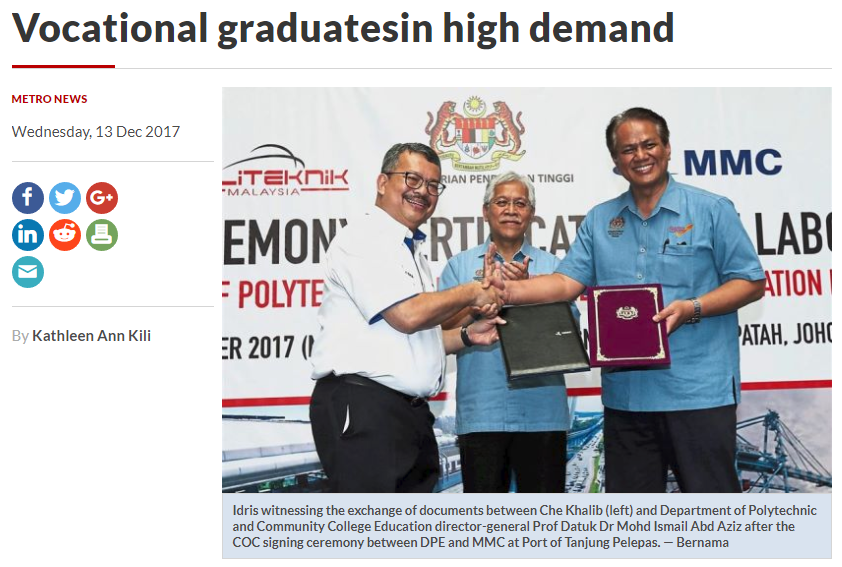 TheStar, 13 December 2017 - GELANG PATAH: Polytechnic graduates have recorded a higher employability rate at 87% compared to 78% for university graduates.
Higher Education Minister Datuk Seri Idris Jusoh said Technical and Vocational Education and Training (TVET) provided by polytechnics was among the reasons for their encouraging employability rate.
He added that more youngsters and parents were interested in the education routes offered by polytechnics, which included skills training.
"Previously polytechnics were undermined and considered as a second-rate education but this perception is changing.
Idris also said that while there were hundreds of collaboration between learning institutions and industry players, the partnership between MMC and DPE was on a larger scale.
Through the collaboration, MMC, a premier utilities and infrastructure group, will provide opportunities for polytechnic students to undergo industrial training of work-based learning to equip them with real work experience.
The DPE, on the other hand, will provide a platform for forums to exchange information through discussion sessions, lectures and conferences in various fields, especially mechanical and electrical engineering, port management, shipping and logistics.
Meanwhile, MMC group managing director Datuk Seri Che Khalib Mohamad Noh said the centre would serve at least 100 students at Politeknik Ibrahim Sultan for starters, and that the number is expected to increase eventually.
"We are very excited about the establishment of the MMC-Polytechnic Education Centre.
"This demonstrates how industry and education can together help develop those with practical and industry relevant skills," he added.