01/10 2018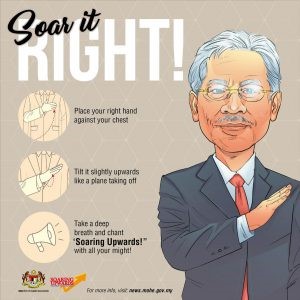 If you think you have seen enough, expect to see more of this 'Soaring Upwards' gesture as the year 2018 will herald another impressive chapter for Ministry of Higher Education (MoHE), under the helm of Datuk Seri Idris Jusoh.
In fact, MoHE is on full throttle soaring upwards. This time, there is no excuse. Everyone has to do it right. Place your right hand against your chest and tilt it slightly upwards like an airplane taking off.
This hand gesture, which you might have observed as a mere gesture has a story. It holds a special place in Idris' heart and his hopes for the direction of higher education in Malaysia.
The journey towards success starts from the shoulder. On its way, it takes a dip at the elbow, as do we when we begin a challenging task.

However, those who choose perseverance over defeat will rise, just as the forearm is bent upwards, in a certain yet gradual climb.

The palm is placed closest to the heart. This is because throughout our journey, we create a powerful emotional connection between our sacrifices and triumphs.

The hand is twisted so only the thumb rests against the chest. This particular position prompts a sense of pride directed towards our achievements. It also shows how our more robust backhand is ready
to protect our delicate palm in the ascent, just as how we have steadily built endurance through experience against the many trials we have and may encounter.

The fingertips represent the zenith of success. The pointy nature of our fingertips demonstrates the clear direction and desire we hold on to as a guideline throughout the journey.

Soar it right, let's take flight, and say it with all your might.

SOARING UPWARDS!